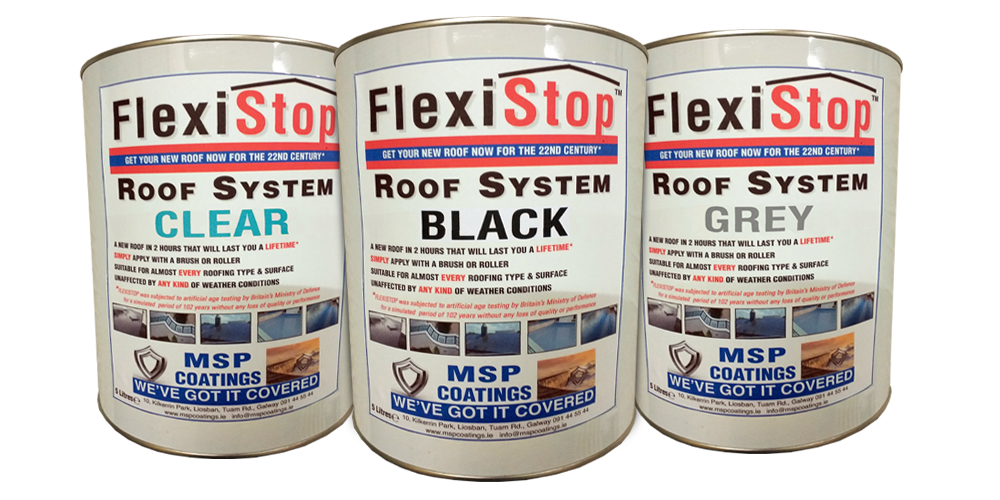 FlexiStopTM is a liquid roofing material coating system.
AN APPLICATION OF FLEXISTOP LIQUID SILICONE ROOFING MATERIAL WILL FORM A DURABLE AND TOUGH WATERPROOF BARRIER, PROTECTING THE ROOF AND THE STRUCTURE BENEATH IT FROM HARSH AND EXTREME WEATHER CONDITIONS FOR MANY DECADES.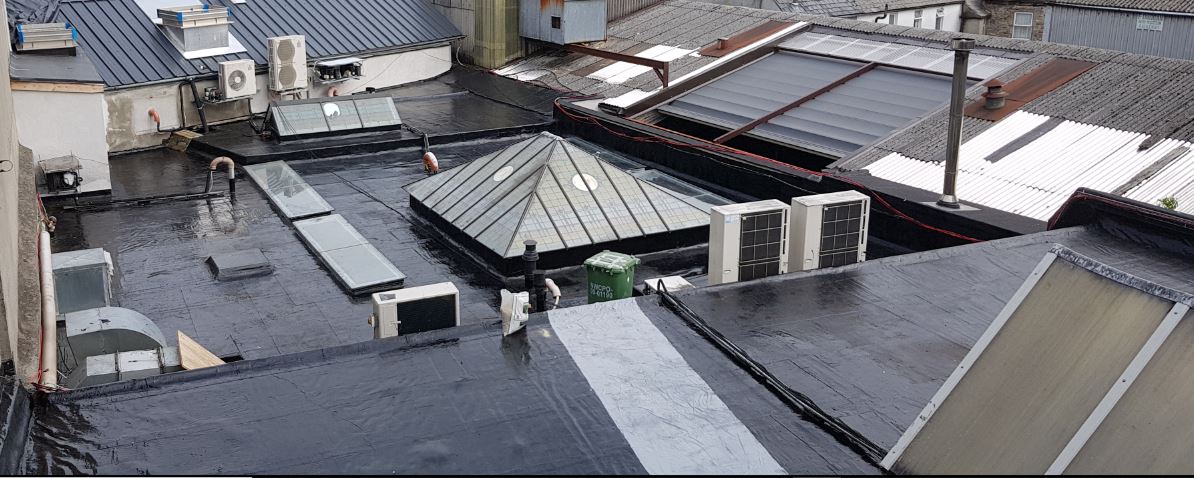 THE ONLY QUALITY ROOFING MATERIAL GUARANTEED FOR 35 YEARS
LOOKING FOR A WATERPROOFING SOLUTION FOR YOUR PROPERTY?
KEY FEATURES
100% Waterproof on All Roofs
Whatever the shape of your roof, MSP Coatings FlexiStopTM Roofing Material will flow and cure to form a watertight seal. When applied, the system cures to form a tightly adherent, seamless, permanently elastic waterproof skin, following the most complicated and irregular surface contours. It can be used with a polyester fleece for added strength in areas where high stress demands the strongest possible roofing products & solutions.
Thermally Stable
 The "in service" working temperature range of FlexiStopTM Roofing Material is -60°C to +200°C (that's 143°C higher than the highest ever temperature recorded on earth twice the temperature of a boiling kettle!). It is thermally stable throughout this range, retaining all of its properties 100%. Almost all roofing materials expand at high temperatures and shrink at low temperatures. This constant movement eventually leads to cracks, splits and failure in standard roofing products. FlexiStop remains pliable and supple. FlexiStop™ Roofing Product has excellent UV resistance properties and is basically unaffected by the Ultra Violet light of the Sun.
Time Saving
Upstands such as rooflights, ventilation shafts, parapets and air-conditioning units can be simply encapsulated in the entire roof membrane in a fraction of the time needed for the "cutting and tailoring" needed to fix old-fashioned, preformed roofing products into place.
Resistant to Dilute Acids and Alkalis
FlexiStopTM has excellent resistance to dilute acid and alkalis. It is ideal in densely populated or industrial areas where the air can be heavily contaminated.
Prevents timbers rotting and harmful unsightly fungal growth
FlexiStopTM is 10 times more vapour permeable than most other high tech membranes and 100 times more than bitumen based products. This allows any trapped moisture to escape in vapour form so that it does not continue to rot supporting timbers or plaster. Yet FlexiStop™ Roofing Product is fully water repellent, non-hygroscopic and will not support fungal growth.
High Fatigue Resistance
FlexiStopTM has amazingly high fatigue resistance. It can be bent and twisted a multitude of times without failure – see the repaired bellows case study in our "Downloads" section, and consider the stress applied to the FlexiStopTM repair thousands and thousands of times on each and every train journey.
Non Combustible
The surface spread of flames is not an issue with FlexiStopTM Roofing Material as it will not support combustion, unlike bitumen based roofing materials. It will burn when subject to intense flame, but will cease burning when the flame is removed. When tested in accordance with BS 476: Part 3 1958, it achieved the designation of EXT.F.AB.
Environmentally Friendly
FlexiStopTM is solvent and halogen free and environmentally friendly, also FlexiStopTM has been subjected to BS6920 Test On Effect Of Water Quality, producing satisfactory results for all leaching tests. Water harvested from a roof coated with FlexiStopTM Quality Roofing Material is suitable for potable purposes: It can be used to collect water from farmyard buildings to then divert it to animal drinking troughs. And cracked or damaged drinking troughs can be repaired with FlexiStopTM Quality Roofing Material without affecting the quality of the water!
Suitable for all known Substrates
FlexiStopTM Roofing Material will adhere to virtually all known substrates, but the quality of the substrate will not affect the system. FlexiStopTM Roofing Material is very strong and its strength is independent of the substrate. FlexiStopTM has extremely high stress absorbing characteristics and excellent recovery traits.
FREQUENTLY ASKED QUESTIONS
1. Why is it called FlexiStopTM?
Because an ingredient added to the formula prevents it curing to a fully rigid state for many, many decades, expanding and contracting along with your property in heat and cold, providing a strong, waterproof seal. Almost every other roofing product goes rigid and brittle, cannot cope with movement in the building caused by heat, cold and external causes, then cracks and fails, allowing water through.
2. Do I need a qualified roofer, or who can do it for me?
In many cases, such as when repairing a leaking felt roof, home-owners have carried out their own repairs. More complicated jobs can be done by competent handymen with experience in the building trade. If you contact us on 091 445 544 or info@mspcoatings.ie and tell us your own situation we will advise you as to your best course of action.
3. Can I apply FlexiStopTM myself?
A roofer has described working with FlexiStopTM as "the low-tech application of a high-tech product". Very often over the years, the answer has been "Yes". Again, call or email us on 091 445 544 or info@mspcoatings.ie and we will advise you.
4. What tools will I need?
FlexiStopTM is like a thick paint and is applied with a brush or roller.
5. I used another liquid system before and it started to "go off" as soon as I opened the can, making it very difficult to work with. Will this happen with FlexiStopTM?
No. FlexiStopTM cures in about two hours, and gives you plenty of time to work with. Some products need to be worked super fast, or go off on the brush or roller. This will not happen with FlexiStopTM.
6. What preparation is needed before FlexiStopTM is applied?
All surfaces to be coated must be clean and perfectly dry. FlexiStopTM is designed to last a minimum of 35 years in almost every known climate. Remove all loose debris and dirt, any oils and grease by vigorous scrubbing or power-washing. Then dry the clean surface, using towels or heat if necessary.
7. What roofing substrates/surfaces will FlexiStopTM adhere to?
? FlexiStopTM has been successfully used on concrete, felt, asphalt, slates, fibreglass, tiles, asbestos, timbers, corrugated iron, steel, lead, metal profile, copper, aluminium, etc. Some substrates, such as uPVC and EPDM membranes require the use of a self-etching primer beforehand. Some of the metals listed above may need a light sanding in order to provide a "key".
8. I have a single ply uPVC roof that is leaking. Can I repair it with FlexiStopTM?
9. I am thinking of fixing WBP ply or OSB Board over an existing surface, can I apply FlexiStopTM to this?
Yes you can, but you should first use a sealer primer (we recommend "WeatherStopTM") which will both seal the timber, provide a good "key" for FlexiStopTM to adhere to, and should reduce the quantity of FlexiStopTM needed by lowering the absorbency of the timber.
10. Is FlexiStopTM affected by "ponding"?
No. FlexiStopTM can be permanently submerged in water for decades without any defects occurring. In our office we have a cardboard box, which we lined on the inside with FlexiStop and filled with water… back in 2013 – and the water is still sitting there!
11. What temperatures can FlexiStopTM be applied in?
FlexiStopTM should best be applied at 5oC or above. If applying in low temperatures first ensure all frost related moisture is removed and the surface is dry.
12. How long does FlexiStopTM take to cure?
A good skin should typically form in about two hours, although this will vary depending on temperatures and humidity. Once it has been applied for an hour or so a light rain-shower should not affect it. It is recommended that you allow 24 hours before recoating. Do not apply FlexiStopTM if heavy showers or persistent rain is imminent. In cases of extreme urgency we can add a fast acting catalyst that will greatly speed up the curing time. Call or email us on 091 445 544 or info@mspcoatings.ie for more information.
13. What colours does FlexiStopTM come in?
Standard available colours are Grey, Black & Clear. FlexiStopTM can be applied in any colour, to order, if a minimum quantity of 100 litres is ordered.
14. Is FlexiStopTM only suitable for flat roofs?
No. It can be also used on sloped roofs, and can actually be painted on to vertical surfaces, such as parapet walls and on gable walls adjoining flat roofs, forming a seamless membrane from the wall across the roof. Like a thick oil paint it will "run" if applied too thickly, so two or even three very light coats might be recommended, depending on the circumstances.
15. How do I calculate how much FlexiStopTM I need?
Typically, two coats of FlexiStopTM, or one thick coat, will be achieved using 1 Litre per Msq (a single 5 Litre can should therefore cover about 5Msq). This varies from substrate to substrate, depending on porosity or what you want to achieve. Call us or email us on 091 445 544 or info@mspcoatings.ie and we will give you an estimate of the amount of product required.
16. I have seen a liquid silicone product that advertises a coverage rate of 27 M2 per Litre. How does FlexiStopTM compare?
If you do the mathematics, that coverage rate provides a coating that is 0.025mm thick. FlexiStopTM, applied at the rate suggested in No. 14, above, gives a coating 40 times thicker – and stronger.
17. What if I don't use a complete can?
Simply replace the lid tightly, using the clamp provided, and the product should be still good to use for up to twelve months.
18. Will sunlight and very high temperatures or hard frost affect the coating?
No. FlexiStopTM is UV resistant and is not affected by temperatures from -60oC to + 200oC. It remains flexible and pliable almost anywhere on planet Earth.
19. Will I need to coat FlexiStopTM with "silver" paint to reflect sunshine?
You will neither be able or need, to paint FlexiStopTM. See the answer to Question 18.
20. Will FlexiStopTM allow my building to "breathe"?
Yes. FlexiStopTM is completely vapour permeable, allowing any moisture in the building or substrate to evaporate, while preventing any dampness penetrating from the exterior.
21. Can I cover large gaps or holes in my roof surface?
Yes. Larger gaps can be bridged using a fleece that has been embedded in a prior coat of FlexiStopTM and then coated along with the rest of the surface to be treated.
22. I think my roof surface is weak – can I reinforce it while sealing it from the weather?
Yes. A light coat of FlexistopTM should be applied, a fleece embedded into this and, when cured a second coat of FlexiStopTM applied to that. This will provide an extremely strong, flexible surface.
23. Do I need to use a primer/sealer in advance?
Some substrates will require or benefit from a prior application of a primer/sealer. These, typically, are uPVC or EPDM membranes, and timber sheeting (see answers to question 5 & 7 above).
24. I have rusted steel gutters & rusted galvanised roofs. Can I repair them with FlexiStopTM?
Yes. Surfaces should first have all traces of rust removed, and a rust kill/inhibitor applied. Then apply FlexiStopTM as recommended.
25. Can I use FlexiStopTM repair an asbestos roof?
"Yes", is the short answer. However, asbestos brings with it a whole range of hazards, requirements and regulations. Like any substrate, however, once asbestos is clean and dry, FlexiStopTM can be successfully used provided all recommended precautions are observed.
26. Can I encapsulate asbestos and seal hairline cracks with FlexiStopTM?
Yes.  Though this may be done more easily and less expensively with WeatherStop. Call or email us on 091 445 544 or info@mspcoatings.ie for more information.
27. I use water saved from my stable roofs as drinking water for my livestock - can I use FlexiStopTM to repair these roofs?
Yes. FlexiStopTM has passed all water leaching tests and can be used to harvest or contain water fit for human and animal consumption British Standard BS6920 (Test on Effect of Water Quality) applies.
28. Can I use a powerhose to wash a roof coated with FlexiStopTM?
Yes. Although nothing will adhere to FlexiStopTM, including moss, algae etc., it can be cleared of debris (bird droppings, etc.) by powerwashing, though the jet should not be applied too close to the surface. A simple brushing along with the use of a garden hose will be just as effective.
29. Can I walk on a roof when it has been covered with FlexiStopTM?
Yes. FlexiStop will withstand casual foot traffic, such as when a roof needs to be accessed by maintenance personnel. If an area of a roof is intended for use as a designated walkway, suitable matting should be laid there. Flagstones can be placed on top of FlexiStopTM without causing damage as long as care is taken that all sharp objects or debris that might penetrate the coating are carefully removed beforehand.
30. Does FlexiStopTM have any certification?
Yes. FlexiStopTM has been independently and scientifically evaluated for Fire Retardant Qualities (BS476 & BS6853), Vapour Permeability (6931), and Effect on Water Quality (BS 6920) and carries relevant certificates in these categories.
31. What if someone, say a maintenance worker, damages the roof, or if birds peck at the new FlexiStopTM coating?
We have never come across a case of birds eating FlexiStopTM, but if an area of FlexiStopTM is damaged on a roof or other surface you should remove any loose product and paint the cleaned area again, continuing on to the undamaged surface for about 100cm/4 inches in all directions. The only thing that sticks perfectly to FlexiStopTM is FlexiStopTM!
32. The joints and seams of my caravan/mobile home have been weakened over the years – can I repair them with FlexiStopTM?
Yes. FlexiStopTM will adhere to the substrates involved. Caravans and mobile homes are susceptible to movements caused by road travel and exposure to wind – because FlexiStopTM remains flexible for many, many decades it is ideal for use in this case.
33. I am interested in be becoming an approved applicator of FlexiStopTM. How do I go about this?
We will offer training courses to selected candidates who have a proven history of providing quality service to the public in the roofing/construction/maintenance fields. If you feel you meet these qualifications, contact us on 091 445 544 or info@mspcoatings.ie.
HOW TO GUIDE
Surfaces to be treated should be first properly cleaned of all dirt, preferably by power-washing.  Oils, grease, etc. should be removed by washing with a suitable detergent, the roof rinsed and dried completely afterwards.  Any loose material from previous coverings should be removed.  Slate or tiled roofs should have all moss and algae removed, and a moss-kill solution applied in order to prevent future growth.
Any small gaps or holes can be masked using masking tape or duct tape.  Larger gaps can be bridged using a polyester fleece (which we stock) embedded in a coat of FlexiStop and coated with a second application when in place.
Some substrates will need, or greatly benefit from, a prior coating of a primer/sealer (we recommend WeatherStop) in order to assist adhesion or to increase the coverage rates of FlexiStop.
Surfaces must be completely dry before applying FlexiStop.  Do not apply below 50Celsius, and any moisture resulting from frost should first be removed by towelling or heat application.
If you have any queries at all we are here to help you.  We have dealt with thousands of individual property owners and roofers and have the answers to almost every question! 
LOOKING FOR A WATERPROOFING SOLUTION FOR YOUR PROPERTY?