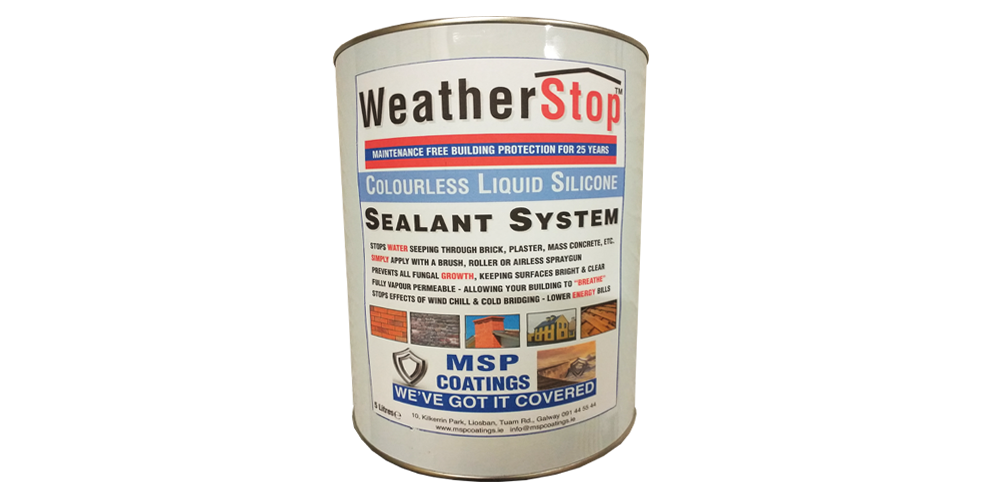 WEATHERSTOPTM IS A SILICONE BASED LIQUID SEALANT. IT STOPS WATER PENETRATING POROUS BRICK, PLASTER, RENDER AND CONCRETE STRUCTURES. 
LOOKING FOR A WATERPROOFING SOLUTION FOR YOUR PROPERTY?
Applied by brush, roller or airless spray gun, WeatherStopTM can be diluted using white spirits which will allow for greater coverage and also permits the product to "soak" into the substrate where there are concerns that abrasion may compromise the seal.
MSP Coating's WeatherStopTM is an advanced liquid silicone exterior coating that is far superior to ordinary masonry paint, meaning your building's exterior can be maintenance free. Eliminate the effects of wind chill, cold bridging, penetrating dampness and condensation.  Cold bridging, or "thermal bridging" is caused by dampness in the wall and results in heat loss and higher energy bills.
Situated on the North Eastern edge of the Atlantic Ocean your home or business needs all the quality protection it can get! Our winters are getting colder and summers getting wetter over the past ten years – you need better protection now more than ever.
MSP WeatherStopTM Building Protection is an advanced wall coating that will end the need for expensive, repetitive and inconvenient exterior wall painting and maintenance by completely protecting your exterior walls whatever the type of surface. It can be applied to any prepared surface including Pebbledash, Roughcast, Plaster, Render and previously painted surfaces.
MSP Coating's WeatherStopTM resists the cold and heat, prevents penetrating damp but allows walls to breathe. It is particularly effective against salt sea winds, acid rain and corrosive pollution.
MSP Coating's WeatherStopTM Building Protection will enhance the look of any building by transforming the appearance.  It can be supplied in any colour specified by the customer where sufficient quantities are required.
Your house is probably the largest single investment you will ever make, so it makes sense that you should protect it and its value. When it comes to building protection, MSP is there when you need the best quality products.
One of the main aspects of protection is the exterior walls – they are continuously attacked by the elements.  Paint becomes flaky and porous with age and as a result creates the ideal conditions for the growth of moss and algae.
This unwanted growth not only damages the surface of the walls over a period of time but also results in a shabby appearance. WeatherStop Building Protection prevents any such fungal growth, greatly enhancing the long-term appearance and value of your property.
Call us now on 091 44 55 44 for advice or to order WeatherStopTM Quality Building protection.
We can ship overnight, anywhere on the island of Ireland, if ordered before 3.00pm.
FREQUENTLY ASKED QUESTIONS
1. Why is it called WeatherStopTM?
A thin coat of clear liquid silicone, it protects most surfaces from the ravages of climate – or the weather – preventing moisture entering your home or business through exterior walls.
2. How is WeatherStopTM applied?
By brush, roller or airless spray-gun to a clean, dry surface.
3. What surfaces will WeatherStopTM protect?
Porous brick*, plaster, render, mass-concrete walls and asbestos are all susceptible to penetration by damp and driving rain. Two coats of WeatherStopTM will prevent any moisture entering a treated surface. Asbestos fibres can be encapsulated with a coat of WeatherStopTM, and may save you the extreme expense of dismantling and removing old asbestos roofing/cladding. *See FAQ 7 below.
4. Will an application of WeatherStopTM to my exterior walls reduce heat loss?
The dampness trapped in an exterior wall acts as a "thermal bridge" taking heat from the warmest side of the wall (the inside) to the coldest part (the outside).  WeatherStop won't allow water reach the wall's surface, eliminating the "thermal bridge".
5. Can I paint my house after coating with WeatherStopTM?
You will neither need nor be able to paint your house again for some twenty five years.  You should first paint your house in whatever colour you wish, and then apply two coats of clear WeatherStopTM. If you like you can leave the window sills and reveals untreated and you can then change the appearance of your home from time to time by painting them in different colours.  If you really must paint the walls WeatherStopTM can be removed with a power-washer at a "fanblade" setting.
6. Will WeatherStopTM prevent my walls being discoloured by algal growth?
Yes. Two coats of WeatherStopTM, each diluted by 40% white spirit (2l of white spirit in each 5l can of WeatherStopTM) will do the job for decades.
7. Can I use WeatherStopTM to protect stone walls?
Yes. Apply as per No. 6 above, but it might be advisable to first treat the stone with a coat of Non-Darkening Sealer, available from MSP Coatings.  Call us on 091 445544 at any time for advice.
8. I am erecting timber fenceposts around a large field. Will WeatherStopTM protect them?
Yes. Dilute the WeatherStopTM with 30% white spirit, dip the top of the post into the WeatherStopTM, and when cured paint about 250mm of the post at the point where it will be meeting the earth when erected. This will greatly add to the life of your fence – for about €0.20 per fence post.
HOW TO GUIDE
All surfaces must be clean and dry, and free from oils, grease, etc.  If you want your walls painted in a colour, this must be done before applying WeatherStopTM.  If applying to a painted surface the job can be done with one full strength coat, applied by brush, roller or airless spraygun.  Brick, stone or render should best be given two coats of WeatherStopTM diluted 20% with white spirit.
If you are concerned about the colour of the brick or stone changing it is advised that you treat a very small section that is not obvious to the casual eye, allow an hour or two to pass, and if the area is still darkened you will need a Non-Darkening Sealer (available from MSP).  This is a very thin milky substance which is invisible when dry.  You can then apply WeatherStopTM without any change of colour or shading.
If coating timber products such as fence posts or garden sheds it is best to apply in two coats, diluted to 20%.  The working life of a fence post will be extended by decades if the top 100mm (4") of the post is coated as well as 150mm (6") at the point where the post meets the earth.
As always, advice is available at all times from 091 445544.
LOOKING FOR A WATERPROOFING SOLUTION FOR YOUR PROPERTY?